Deluxe rooms with view at Mamma Santina's were created for families and inspired by "slow living" on the island of Salina
The Deluxe room at Mamma Santina has four beds and is approximately 30m2. It is on the ground floor of the hotel. It is designed to accommodate four people. It is very comfortable for families and groups of close friends.
The room is decorated with the works of Tanino Cincotta, a native of Salina. His original "fish" are made using recycled materials and add a touch of personality to the room.

The Deluxe room has a shared terrace, furnished with table and chairs, hammock and a masonry bench. The room faces the sea of Salina. The terrace gives exposure to the fragrances and views of the lush nature and awe inspiring beauty of sunsets on Salina.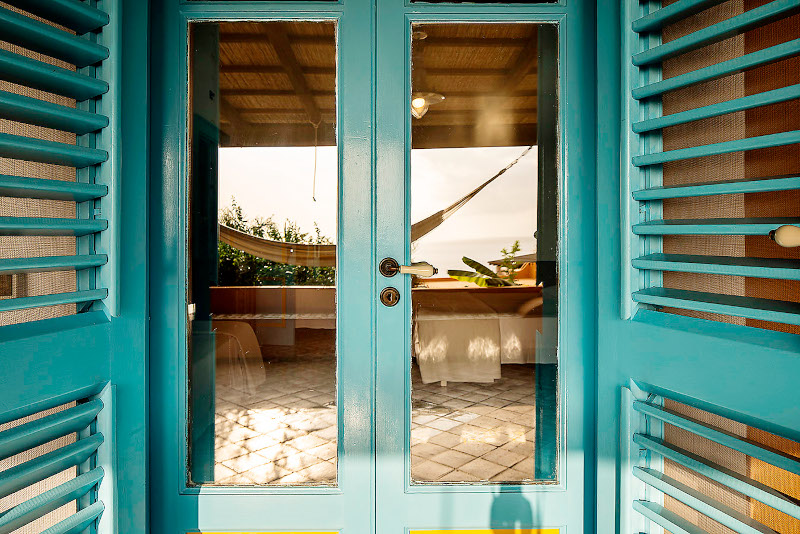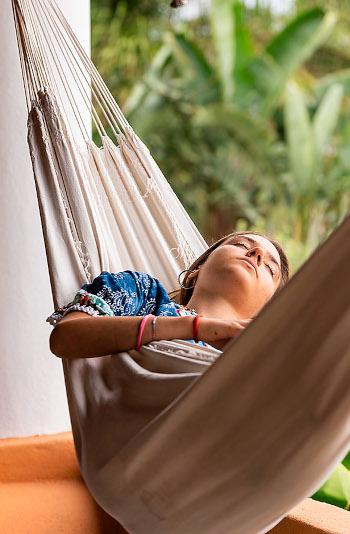 Services and Amenities
The Deluxe rooms at Mamma Santina's provide all that is necessary for a vacation of comfort and relaxation.
Room AC (that can be set for both cool and warm), internet access, private bathroom with shower, hairdryer, courtesy kit Comfort Zone, vanity set are the amenities these rooms offer. The double bed and two singles can be turned into two twin beds when needed in an approximately 30 m2 space. The terrace facing the sea is furnished with a beautiful hammock where one can experience the "slow living" or slow pace of the island. On the horizon are other neighboring Aeolian islands, Lipari, Panarea and Stromboli.
air conditioning
internet access
flat screen TV
bathroom with shower
double and 2 single beds
30 sqm / up to 4 guests
first floor
shared terrace
lounge chair and table
hammock
sea and islands and view of Lipari, Panarea and Stromboli
All rooms and suites at Mamma Santina
Your hotel with pool and restaurant in Salina