A garden with vegetables on Salina
un paradiso verde
a green paradise for Mamma Santina's garden
The vegetable garden, personally tended by Mario, is located on a terraced plot overlooking the sea, just a few metres from the Mamma Santina hotel.
A green and fertile space, thanks to the volcanic soil of the island of Salina, which is like a blessing bearing many good fruits.
The garden is a 'natural larder' from which to draw in a sustainable manner to gather truly zero-kilometre products that form the basis of the ideas, dishes and many traditional recipes proposed by the hotel restaurant.


Mario is a champion of seasonality, local cuisine and biodiversity.
In fact, in addition to the typical garden produce, the garden produces tropical fruits such as finger lime (or lemon caviar), avocado, lime, mango and passion fruit.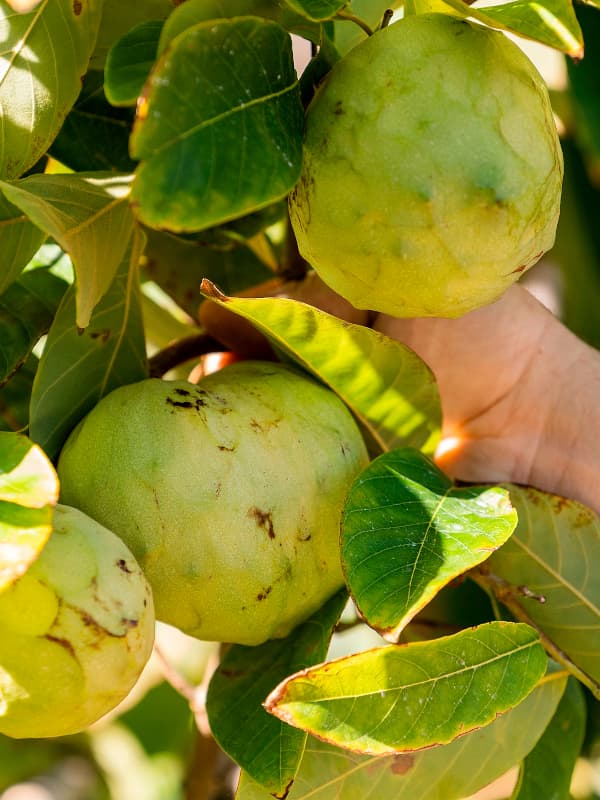 From the vegetable garden to the restaurant at Mamma Santina's
The restaurant's vegetable garden is a natural pantry. It follows seasonal cycles and gifts us with the herbs we use in the restaurant's kitchen for most of our dishes. Home made jams served for breakfast, and used for desserts, cocktails, lemon crushed ice or, granite, eggplant that gets turned into a caponata, fresh caper salads, soups and vegetable side dishes for fish all come from the vegetable garden.

A 'green philosophy' in which the garden, with its herbs and fruit, contributes to forming the framework for a menu of taste and authenticity.
"My research of how to best use produce from our garden has been unrelenting. My passion for tropical fruit has turned my large garden into an orchard of mangos, avocados, finger limes, passion fruits, lychees and limes. They grow just a few meters away from Mamma Santina's. They all blend perfectly with our local dishes."
Mario is the keeper and spokesperson for a family tradition. This tradition elevates Aeolian cuisine to an extremely high level. He cares for the vegetable garden and orchard with dedication and passion and the volcanic soil his garden and orchard grow on produces fruits and vegetables of extremely high quality.